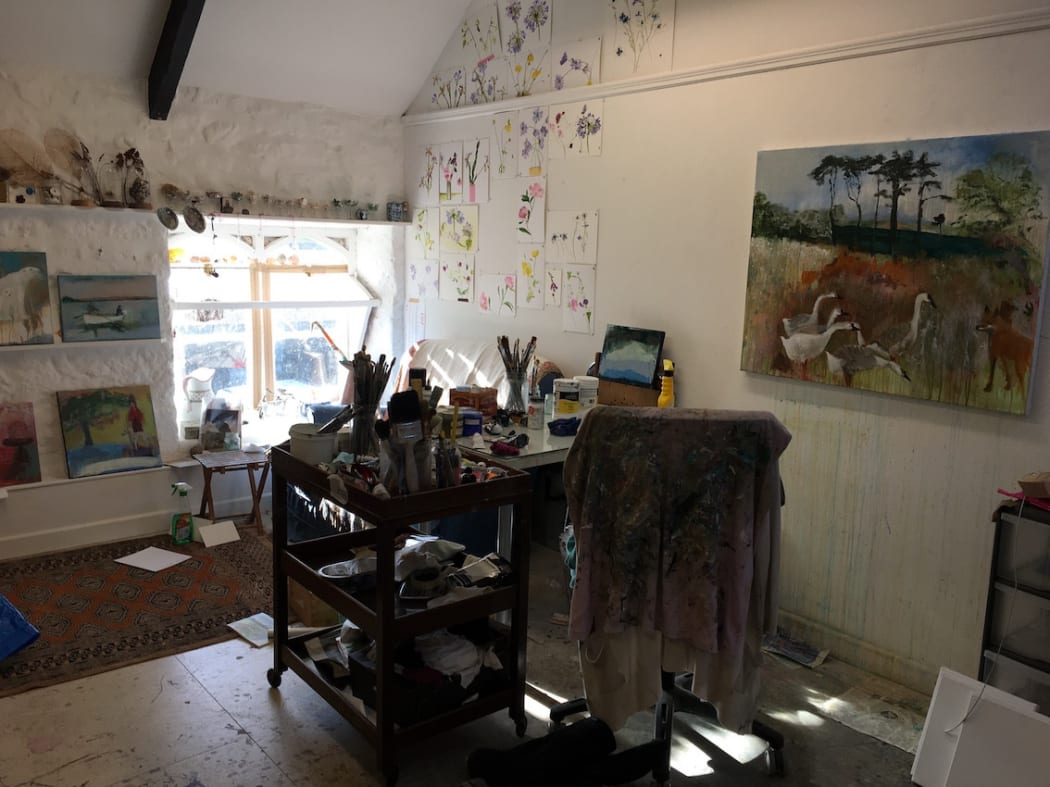 ARTIST SPOTLIGHT & INTERVIEW: NICKIE CARLYON
13th March 2021
ARTIST SPOTLIGHT & INTERVIEW
NICKIE CARLYON
Nickie Carlyon has been a practising artist since 2012 and is based in Cornwall. She has a studio at Trewidden Gardens, Penzance. Primarily working in acrylics, her subject matter crosses between the figurative and the landscape. The ideas behind her work are informed through travel and research into social history. She is a storyteller.
Her Flower Meditations were completed in the Summer of 2020 and we have shown these at our Walton Street Gallery. Her most recent body of work focuses on foliage, wild birds, and birds nests, and these new works are due to be in the gallery ready for our re-opening in Mid-April.
Read on for our interview with Nickie, below.
An installation of 50 paintings ….
A Meditation in Flowers
by Nickie, 2020.
"Returning to the studio is always a challenge, even more so after the easing of lockdown, a gift of sweet peas, in early June was the start of this new journey. Watercolours/inks have never been my thing, but I watched a live broadcast from the Hay Festival with Jackie Morris, showing her painting a hare from start to finish with washes of watercolours….. it was so meditative, beautifully executed and peaceful, it inspired an investigation with this medium. The other factor of lockdown was my scatter brain, lack of focus and restlessness. My hours' exercise was a treat to savour for the end of the day, observing the welcome of spring with flowers and birdsong. This new found enthusiasm for the outside led me to also plant seeds in pots for my small patch of decking which is now a flourish of veg and flowers.
These new works are about our external world, the things we take for granted and walk past everyday, I think we have all learnt and now appreciate the small things and how important they are. I am currently sitting on my decking, surrounded by an abundance of green leaves in every size & shape, flowers, colour, vegetables, the scent of honeysuckle & sweet peas wafting on a barmy breeze, bees, butterflies bobbing in and out of flower heads. This is my world now and I am in the now and meditation is all about that process of being in the moment. The 50 paintings are my 50 moments of presence.
These paintings are an antidote to my angst about this crazy year …"
Flower Meditation No. 34
Ink & Watercolour on Card
44 x 44 cm
Framed, glazed and ready to hang
ARTIST SPOTLIGHT INTERVIEW
March 2021
BH: What lead you to being an artist?

Nickie: It's been a long journey, as one of my tutors at college said "you've been down a lot of cul de sacs!" Somehow I always knew I'd come to this particular career late in my life, I was too scatter brained & undisciplined as a younger person, I realised my restless spirit was not suited to the studio life. My love of all things visual, colour and texture was a start, visiting studios when working with galleries I just wanted to get hold of a paintbrush and whoosh it all over any surface available, get messy & confident with paint, brushes, paper.
Flower Meditation No. 46
SOLD
BH:Were there any pivotal moments in your education or experience when you were growing up that inspired you to become an artist? Perhaps you had a tutor or friend or parent who encouraged you? Or perhaps discovering the life and work of another artist inspired you in some way?

Nickie: The first memory I have of something that filled me with artistic awe was a visit to Coventry Cathedral in the early 60's, when we were queuing to go in and looking at Jacob Epstein's' sculpture of St Michaels Victory over the Devil, the emotion of amazement and fear. I remember it so clearly and the tapestry by Graham Sutherland … as a 9 year old I'd never seen anything like them, it obviously made a huge impression on me, as it is so clear in my memory. The whole place was so contemporary and alive; I was bought up in a farmhouse with very conventional surroundings of antiques, and traditional paintings.

I always made art at school but unfortunately failed my A level, as in those days you had to pass a written paper as well, I was an undiagnosed dyslexic and found writing & expressing myself in words difficult. It knocked my confidence, I didn't do any creative activity for years but in my mid 30's I had an accident & broke my back, not badly, but enough to shock me into actually steering myself on my chosen path of going to art school. It was one of the most wonderful experiences of my life; I think I wept with joy for the first few weeks of my foundation year! So that was the start of my creative journey.

Flower Meditation No. 24
SOLD
BH: What is your favourite Museum or Cultural Institution? Why? Do you have a favourite work of art or object there?

Nickie: I love the V&A for its eclectic collections, my Uncle always said when he died he didn't want to go to heaven, he wanted to go to the V&A, I rather agree with him! I think one of my most favourite works of art is housed my local gallery, Penlee Museum & Gallery, it's a glorious painting by Thomas Cooper Gotch of Ruby Bone. It's a simple composition of a little girl with a red cape & white smock … the anticipation & interest expressed in her perfect face, she looks like she's trying to read the viewers mind, she's composed yet seems to be on the verge of busting with questions. I love the simplicity of the red and white of her clothes; it's also the perfect size.
Ruby Bone by Thomas Cooper Gotch
56 x 43.2 cm
Oil on canvas
© Penlee House Gallery and Museum
This absorbing portrait by Thomas Cooper Gotch was the result of a wager.
Perhaps poking fun at the prevalence of red-headed women in Pre-Raphaelite art, an acquaintance bet Gotch that he could not paint a red-haired subject with red cheeks in red clothes. This painting of Ruby Bone, a local girl who would have been little over two years old when she sat for the portrait, was the artist's response. The warm oranges and reds of the sitter's hair and clothes are balanced against the dull green-grey of the background and off-white of her dress and buttons. Born in Northamptonshire, Gotch studied at the Heatherley School of Fine Art and the Slade, becoming a close friend of the painter Henry Scott Tuke. Their fellow Slade student Caroline Burland Yates, whom Gotch married in 1881, encouraged the men to visit Newlyn and they became resident there in 1887. Gotch adopted the local rural realist style but altered his own technique to incorporate a joyous sense of colour following a visit to Florence in 1891. The later works for which he is best known are marked by the influence of medievalism, which had been popularised by his Pre-Raphaelite contemporaries. Penlee House is home to an internationally renowned collection of works by late Victorian and early 20th-century artists, with particularly strong holdings of works from the Newlyn School. This portrait of a local figure by a leading Newlyn artist is a significant addition to the gallery's collection.
Flower Meditation No. 20
SOLD
BH: Imagine that Lockdown 3.0 doesn't exist for a moment – if you could be in London for a day, what would your day look like? Where would you go? What would you see & do? Would you take the tube, or a black cab, or a Boris Bike, or walk? Is there a favourite café or restaurant that you like to visit when you come to London? Where are your favourite sights? Do you avoid the tourists and hawkers in Trafalgar Square or enjoy being amongst the throng of crowds in Covent Garden?


Nickie: My visits to London are precious, and I can now only dream, fortunately this time last year on a visit I made a point of going to museums & places I had never visited, John Soanes, The Wallace Collection & Fitzrovia Chapel ….. I walked miles; life in the city is such a contrast to my life in Cornwall by the sea and elements! London is full to brimming with people, colour, smells and language, I usually stay in Brixton and love my walk from the house to the tube, culinary smells of cooking, inflatable penguins on balcony and in spring a couple of years ago, a cloud of mimosa against a brilliant blue sky! As for favourite places to eat I've been lucky to have friends who are members of Chelsea Arts Club, I think that was the last big social outing I had before the Lockdowns started. The dining room is just full of chatter, chinking glasses and drunkeness, hilarity and fun, the portraits of founding members look on, the atmosphere is buzzing and electric, dancing, friends greeting each other with hugs and kisses (how I miss those).

When in London I love to visit the V& A, its full of objects from all corners of the world and times in which they existed, the stories behind them, their purpose and survival, it's a place where you can time travel and imagine…. The museum I discovered not so long ago was The Foundling Museum, originally a home for babies & children left by mothers that had no means to care for their children. One of the most powerful exhibits I have seen is a display of tokens left by the mothers, as most of them couldn't write or read, so if their circumstances changed they could come back for their child with proof of the object they had left with the child…. They varied from a simple hazelnut to bits of jewellery … the stories and humanity behind these objects were heart-breaking. The hospital (as it was known) was supported by artists such as Hogarth and Handel.

Walking along the Thames and over bridges makes me wish to time travel and go back the activity & hustle & bustle of life, I'm sure I'd make a pretty rapid return due to smells and general debris. I love the idea of Mudlarking, finding something that has lain in the mud for centuries, why was it there, how did it end its journey! Likewise I love beachcombing but sadly its mostly plastic waste these days.
Some of the 18th Century Tokens displayed at The Foundling Museum
Clockwise -
To learn more about the History of the Foundling Hospital tokens
visit The Foundling Hospital website
HERE
BH: What are some of the biggest challenges facing an artist working today?

Nickie: I owned a gallery and worked with a few art dealers over the past 35 years, the art market has changed so much in that time. I think the relationship between gallery and artist is changing, technology, social media platforms are enabling artists to expose their work, ideas and concepts to the outside world without a gallery. Having been both sides of the fence so to speak, I thrived on selling artworks from the gallery, art fairs and on-line but now I'm the artist trying to sell my work, it's a whole different story! I'm hugely grateful to have someone else telling the stories, explaining the methods, influences and background.

BH: Are you on Instagram? Do you enjoy using the platform? Has it changed the way you interact with an audience, and do you find yourself tempted to produce work especially for an Instagram audience?

Nickie: Yes I use Instagram and love the immediacy of the medium and feedback. During Lockdown I seem to use it as a record of what I see & observe on my daily exercise rather than posting images of my work. I find it slightly intimidating as I am always changing my work, underneath the finish painting is layers of stories, objects & people come & go, composition changes constantly. My work is always in process, I suppose I should be more confident and record the journey from start to finish as I do on my walks?! I certainly don't do work for an Instagram audience, aren't they just an extension of the people who are interested; who use this platform to browse sites, window-shopping from the sofa!?
BH: What has been your favourite 'series' or artwork that you have made to date? Why?

Nickie: My favourite series I worked on was In My Mothers' Footsteps in 2017; it was a group of paintings I made from photographs of my mother and her family, as a child in Canada. Latterly in her life she developed dementia, so photographs were a great tool to prompt stories and memories, and to her these childhood memories were very clear and precise! We spent hours chatting, laughing & reminiscing over these photos, I recorded her talking and had a couple of exhibitions locally. She died last year, so it's now a wonderful memory for me, a fantastic project to work on and a lasting memorial to my dear old Mum.

See more about this project & others here on Nickie's website, or by clicking the picture, below.
BH: Have you been able to get to the studio during Lockdown, or have you commandeered a room in the house as your Lockdown studio? (Pictures welcome!)


Nickie: During Lockdown I have set up a room in the house so I can do my flower paintings, they are a much more intense process, deep concentration is required; also looking outside oneself is a necessary focus during these times, it helps and there is the joy of flowers, shapes changing daily, new blossoms to faded petals and I usually absorb myself in audio books.

Also I am hugely fortunate to have a studio based in the most wonderful Cornish garden just outside Penzance. There are a group of us, but its easy to be isolated from one another, its where I do my narrative paintings, as they require lots of paint, layers, spraying of water etc. Also it is good to leave at the end of the day and give yourself time and space from what you are working on. I try to leave when I feel satisfied that I have done my best (that's me being optimistic!) I usually leave grumbling about some little detail! Then to return the next day and scrub out, layer upon layer and the story goes on!
Nickie: Also in the Lockdown No. 1 in Spring 2020, I made a couple of murals in my house, one in the bathroom and shutters in the sitting room.

See pictures below.
"In the past I have created murals in various private house, I have never done one for my own abode ….. Lockdown gave me this opportunity and I had the perfect canvas as the bathroom walls are broken up into framed panels.

A friend sent me images about 25 years ago of frescos in Arkotiri, Santorini, they were from a vast archilogical site which is still being excavated. The House of Ladies had images of women collecting saffron and presenting a gift to the goddess, saffron was a hugely valuable commodity. There were also images of monkeys (which I was obsessed by as a child until one spat at me on a visit to the zoo!) I have adapted their story to the present, with the monkeys playing with the virus and spreading it …. I know it should have been bats? I also stencilled some of the hashtags being bandied about ….. it's a story of a moment in time. I'm not sure if it will stay on the bathroom wall but definitely until we are "rid of the pestilence that plagues our lands"! Also note they are very Covid 19 aware with masks & gloves."
"I found a set illustrated Victorian books of British Birds Eggs and their nests …. I was enthralled by the constructions and variety of nests so copied the illustrations and utilised the photo transfer method I often use in my studio practice. Then I paired the nest with a painting of its relative builder…."
Nest Series
Nickie's new works will be at the gallery from Mid-April onwards. They will be a part of our forthcoming Spring Show, along with other new works by gallery artists.
To register your interest, send us an email
here
.