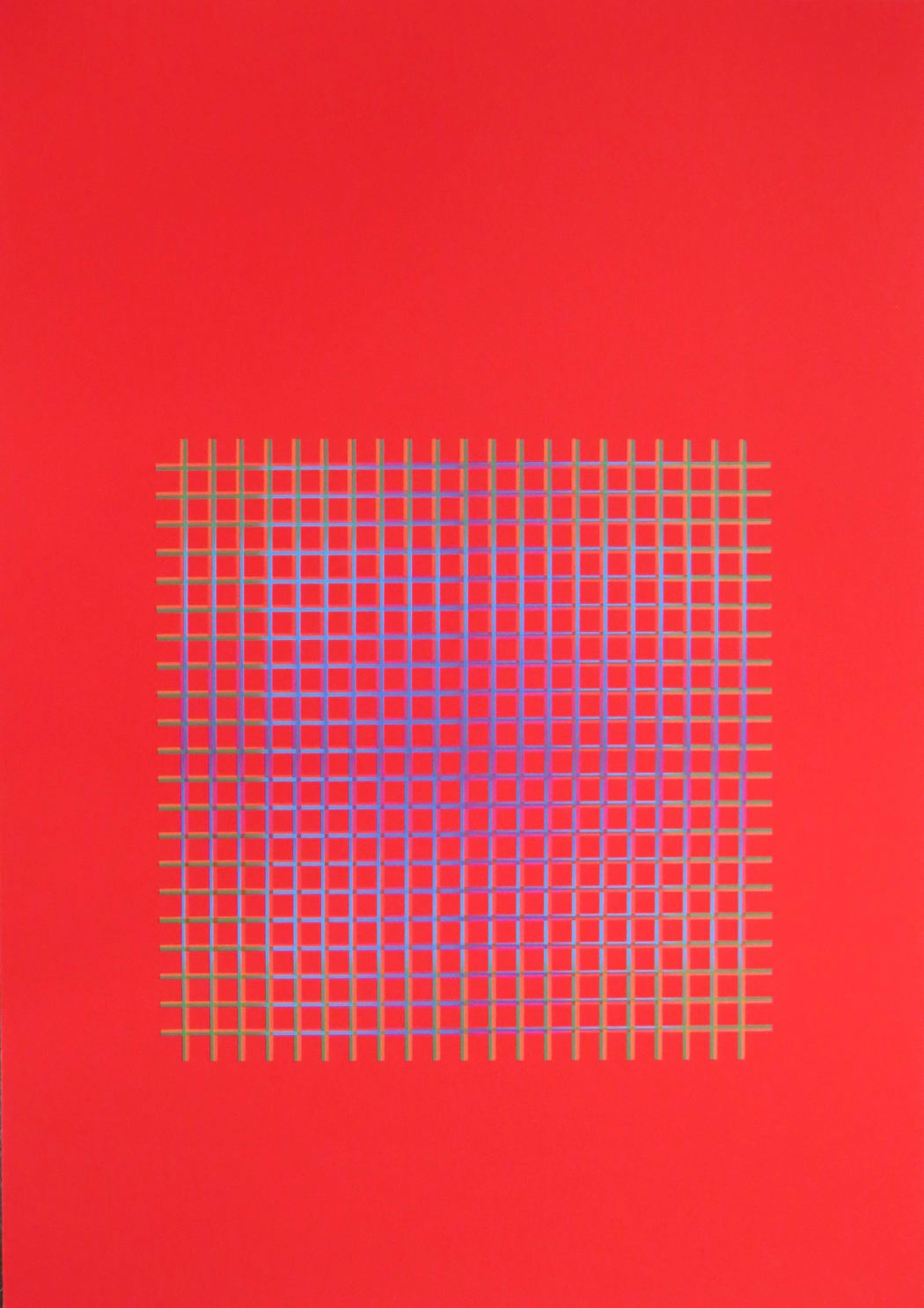 ARTIST SPOTLIGHT & INTERVIEW: JULIA ATKINSON
Saturday 6th February 2021
ARTIST SPOTLIGHT & INTERVIEW

Julia Atkinson
We are delighted to show the works of Julia Atkinson at Brownsword Hepworth Gallery.
Interchange Series, 1970's, Screenprint on Chromolux
Julia Atkinson, Integrate, 2016, Screenprint on Chromolux, Framed in a Perspex Frame
ARTIST STATEMENT:
Since early childhood I have looked at and collected objects for their colour, pattern and texture, and learning to draw heightened my ability to observe detail and structure. I naturally enjoyed creating new colours through mixing pigments but when I was twenty three I took this further by experimenting with optical colour mixing. Screen printing is the perfect technique for portraying pure flat colour. I experimented with printing and contrasting matt and shiny surfaces, on paper or on fabric, using stripes and geometric shapes and patterns.
~ Julia Atkinson, 2013 ~
Julia as a Student at The Slade in 1976
Screen printing was popularised as an artistic medium in the early 1960s by Andy Warhol who used the medium to capture the American post-war zeitgeist through now iconic works such as the 1962 Marilyn Diptych.

Although screen printing was taken up by prominent pop artists across the Atlantic such as Eduardo Paolozzi and Joe Tilson, in the same context the medium became associated with Op Art principally due to the popularity of artists including Bridget Riley and Victor Vasarely.

Around the same time, Julia Atkinson became the first student at The Slade School of Fine Art to specialise in screen printing, and she won an award for her success with the medium.
Over the following decade, Atkinson's practice centred on the Interchange Series in which the artist's mastery of screen printing reaches its apex. By methodically experimenting with colour combinations within grid formats, and informed by a rigorous study of contemporary colour theory, Atkinson produced tantalising optical illusions that appear to shimmer and pulsate.
Even today, 50 years after they were produced, the screenprints retain their full vibrancy and emanate a futuristic energy, while recalling the techno-utopianism that defined the cultural landscape in the late 20th century.
Interchange Series, Screenprint on Chromolux
Julia screen-printing in 1976
ARTIST SPOTLIGHT INTERVIEW
February 2021

BH: Thank you Julia for talking to us today. Were there any pivotal moments in your education or experience when you were growing up that inspired you to make the Interchange Series that we have shown at the Gallery?

Julia: As a postgraduate student at the Slade, my tutor was Robyn Denny. He put the question to me "What are you most interested in?" to which I replied COLOUR. I had noticed a rainbow in my room caused by sunlight shining on bevelled glass and I thought how can I produce work to give a similar effect?

So I concentrated on Screen Printing.

BH: The Interchange Series were made when it wasn't possible to configure designs digitally, or print them on a laser printer. It is really amazing how you managed to create such an effective gradient of colour.

Julia: I also painted stripes of colour on 2 meter wide canvases to create optical mixing according to how close or far the viewer was from them. Because of this work, I was invited to teach in an American college. Here I studied the work of Josef Albers and devised a course for Art Foundation students which explored all aspects of colour, mostly through Screen Printing.
Josef Albers
, Homage To The Square , an example of his disciplined approach to composition and colour theory.
Julia: Below you can see samples whereby using a geometric stencil in various positions, the student has discovered a range of patterns and colour interactions. I continued teaching colour at Foundation level when I returned to England.
Julia: In 1985 I had the opportunity to study part time Fine Art Textiles at Goldsmiths College. This introduced me to studying colour through dyeing and bleaching techniques, which led to my making 2 meter high dyed and screen printed wall hangings.
Julia: When I was 50 I retired from teaching, left London where I had lived for 30 years and moved to a converted watermill in the country. I became a collector of small things, natural or manmade and have plenty of room to display them.

Julia's Mill House & Gardens
Julia: In my most recent work I have selected and arranged from my collection, objects and have housed them in perspex boxes. Joseph Cornell is an artist famed for working in this manner.
Mill Interior, with Interchange Series hung on the right hand side wall.
Examples of Joseph Cornell's work. See details from his retrospective show Wanderlust at the Royal Academy in 2015,
here
.
Julia's recent body of work, below.
Julia: Finally, I should like to mention that my father, Leslie Atkinson, was a painter and illustrator of children's books. My mother, Ivy Oliver, was a ballet dancer. They were married in 1938 and he served in the War as a camouflage officer. When I was 5, they left London and we moved to a house on the sea front at Herne Bay. I grew up with a love of nature and explored the beach for fossils, shells and colourful stones. Hence, by living again with nature in the countryside, my first obsession for collecting, has returned.
Leslie Atkinson far right.
Leslie Atkinson, V.E.Day 1945, Gouache on Paper
Illustrations for Children's books by Leslie Atkinson
Leslie Atkinson, On a Troop Ship, 1943, Charcoal and Pencil on Paper
Leslie Atkinson, Ivy Bathing Julia, 1944, Gouache on Paper
Ivy Oliver, Ballet Dancer & Ivy by Leslie Atkinson, 1942