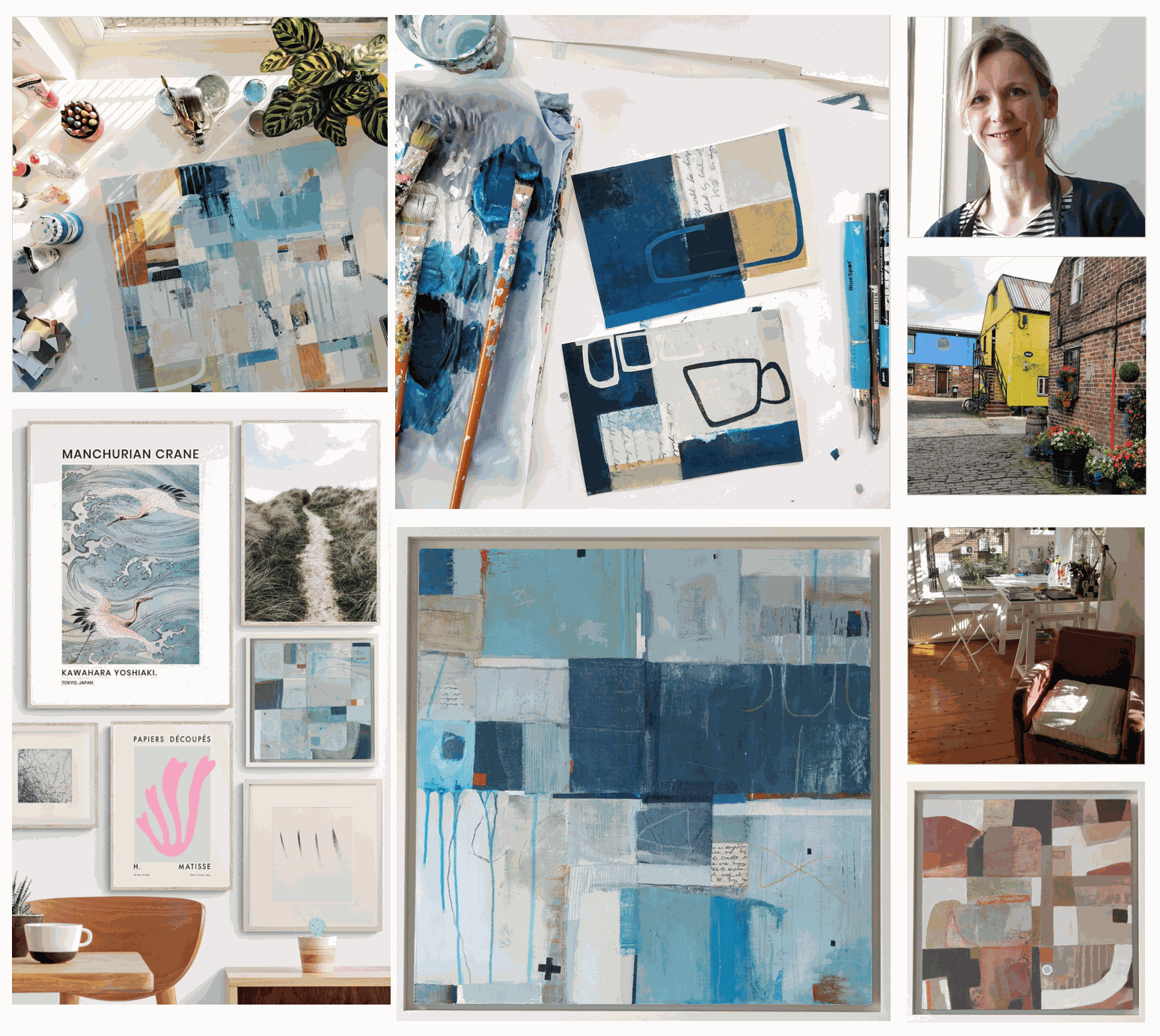 We are delighted to welcome Caroline Millar to the Brownsword Hepworth Gallery on Walton Street, in Chelsea, London. Born in 1964 in the UK, Caroline Millar now lives and works in Glasgow, Scotland.
Having being initially inspired by her many trips to the Scottish Highlands, where she would paint landscapes, Caroline's practice has latterly been inspired by a sense of 'containment' which has led her to her most recent body of work. When the first lockdown arrived in March 2020, Caroline's inspiration had to be found within the surroundings and confines of her home patch in the West end of Glasgow;

'I began to notice 'landscapes' in the pattern of lichen on worn masonry, the peeling paint on a windowsill, the cracks in the pavements. With the freedom to leave the city and head for the hills gone, I began to play with the sense of containment, what that means to me, and how to express that to 'mark this time'.
Working in a limited palette of acrylics with elements of collage, Caroline uses oil pastels, pencils and a variety of mark-making tools to create patterns and marks that are redolent of her wanderings and surroundings in Glasgow. Read on for our interview with Caroline, below.
ARTIST SPOTLIGHT INTERVIEW WITH CAROLINE MILLAR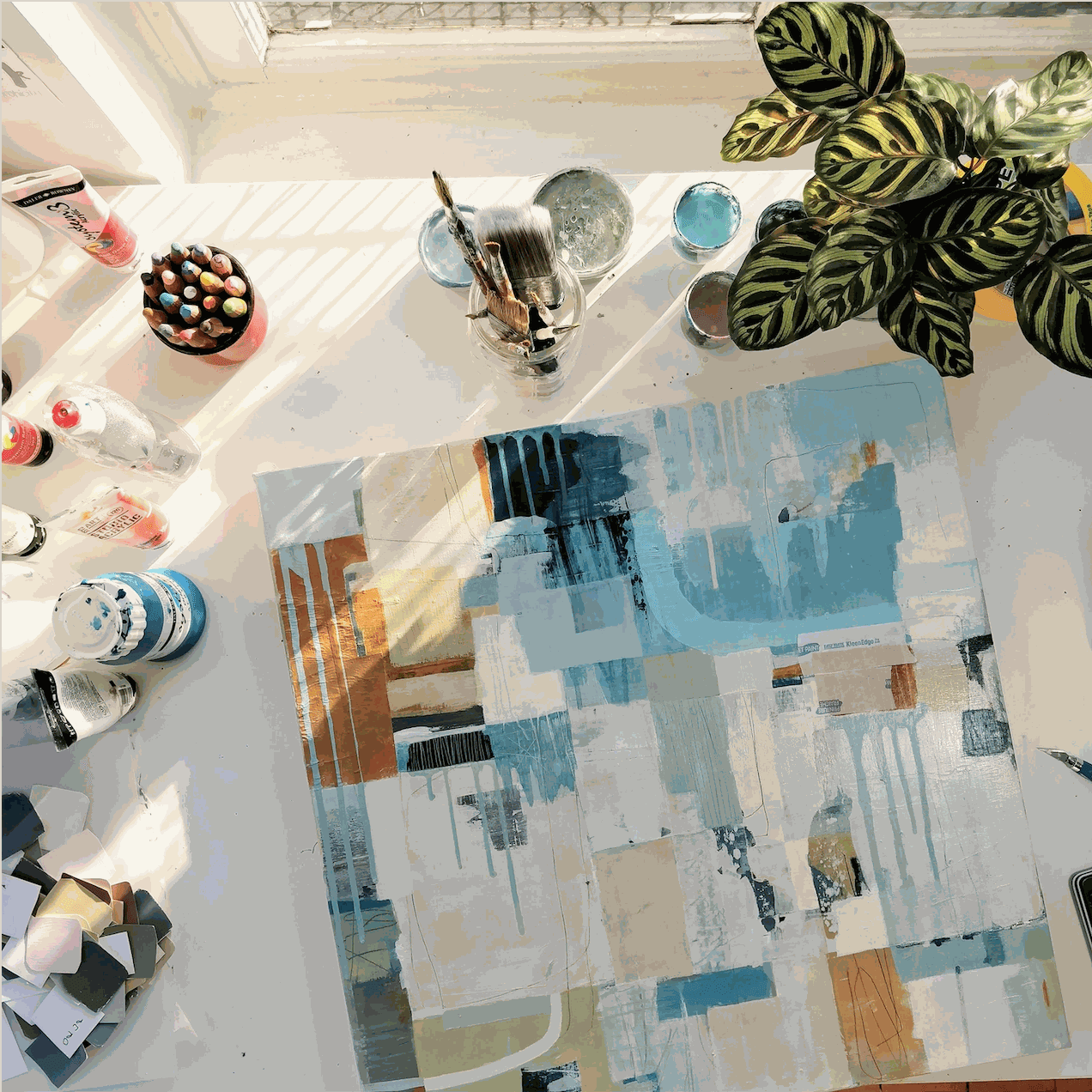 BH: What led you to become an Artist?
I was always creative. As a young child I would trail after my mum asking "What can I make now?" I loved to paint and was given oil paints, an easel and a painting by numbers canvas of a cheesy Alpine scene for my 7th birthday. Once completed, it was framed and hung in my dad's office and I moved on to create my own compositions, usually featuring Dougal, my favourite stuffed toy. However, my oil painting career came to a sudden end after my wee brother got hold of my paints and his expressive abstracts were discovered all over the walls and custom-built fitted cabinets in the newly decorated living room! I don't remember painting much at home after that (can't think why) but I remember my first art lesson at secondary school like it was yesterday.
BH: Were there any pivotal moments in your education or experience when you were growing up that inspired you to become an artist? Perhaps you had a tutor or friend or parent who encouraged you? Or perhaps discovering the life and work of another artist inspired you in some way?
My school was in a Victorian terraced house and the art rooms were in the attic with views over the rooftops. I had quite a chaotic home life and didn't always fit in at school but the art teachers were calm, kind, and supportive and the art classes were where I was able to shine. I was encouraged to develop my own style and would work quickly using thick paint and a palette knife. At home when other girls my age were reading Jackie magazine I was pouring over books about David Hockney and Egon Schiele. Or going to the magnificent Kelvingrove Art Gallery to look at the Impressionist collection. My last trip there (just before lockdown) was to see work by the Scottish artist Joan Eardley.

My godfather was a professional artist so growing up I always knew that such a thing was possible but it was only when my sister-in-law mentioned a friend of hers who 'paints for a living' that something inside me shifted, there was a feeling of excitement and I could almost hear my younger self say "That's what I want to do!" I have since followed the artist on Instagram and one day I'll let her know how her life choices inadvertently influenced mine. I just have to work out how to do that without sounding too weird!

BH: Are you on Instagram? Do you enjoy using the platform? Has it changed the way you interact with an audience, and do you find yourself tempted to produce work especially for an Instagram audience?
I was never a huge fan of social media but being able to connect with other artists in this way has been a welcome contrast to the time spent alone in my studio - not that I don't love being alone in my studio but there is a huge benefit to being part of a network of like-minded people and Instagram has certainly been a fundamental part of my experience as an artist. I would never create art specifically for it but I do treat my feed as a creative project. I don't just think carefully about how it looks - I also think carefully about how it sounds and enjoy telling stories, particularly about my childhood, my love of age-worn surfaces, and other things that have influenced my art. And of course I feel very fortunate to be able to get images of my art out into the world with just a few clicks on my phone.
You can see Caroline's Instagram here, and her website here.

BH: Have you been able to get to the studio during Lockdown, or have you commandeered a room in the house as your Lockdown studio?
I also feel very fortunate to be able to get to my studio during lockdown. It's just a 20 minute walk away in The Hidden Lane - a quirky hive of creativity in Glasgow's uber-hipster Finnieston. At least it was a quirky hive of creativity - with barely a soul around and all the other artists in my building currently working from home I now have the place to myself. I miss the vibrancy and I wonder if this may be the reason why brighter colours have come to feature in my paintings recently. My art is an expression of the myriad of experiences that I hold in my unconscious. I never plan a painting. It's more a process of call and response and although I can't predict the outcome once a painting is complete I can usually see clearly where it came from.
Caroline's studio complete with a loved and comfy armchair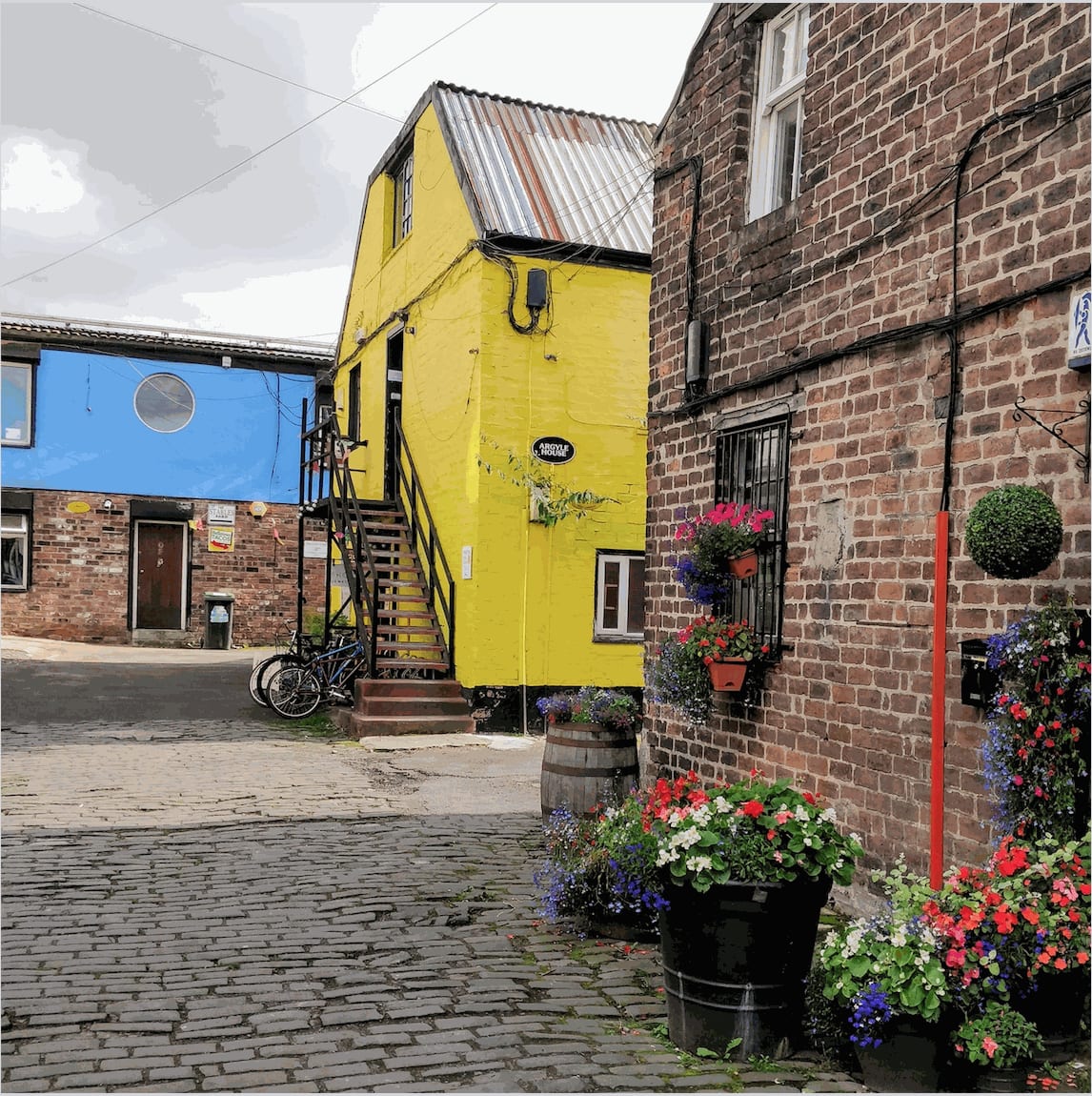 Caroline's Studio in The Hidden Lane, Finnieston, Glasgow

BH: Imagine that Lockdown 3.0 doesn't exist for a moment – what would your day look like?
This last year has been one of monotony set against the backdrop of major life-changes. Or perhaps it's the other way round! But whichever way you look at it being in lockdown for weeks on end has got me hankering for adventure. I can't wait to be able to go exploring again. To dress up. To go to a festival. To sit around a campfire with my friends. I want to go back to Whitstable to eat garlicky mussels, paddle along the water's edge and snap 'arty' photos of the faded wooden beach huts. Or head to Cambridge to wander gently through the whitewashed rooms at Kettle's Yard and enjoy the exquisite beauty in a simple spiral of pebbles.
ART ON A POSTCARD
INTERNATIONAL WOMEN'S DAY ART ON A POSTCARD AUCTION 2021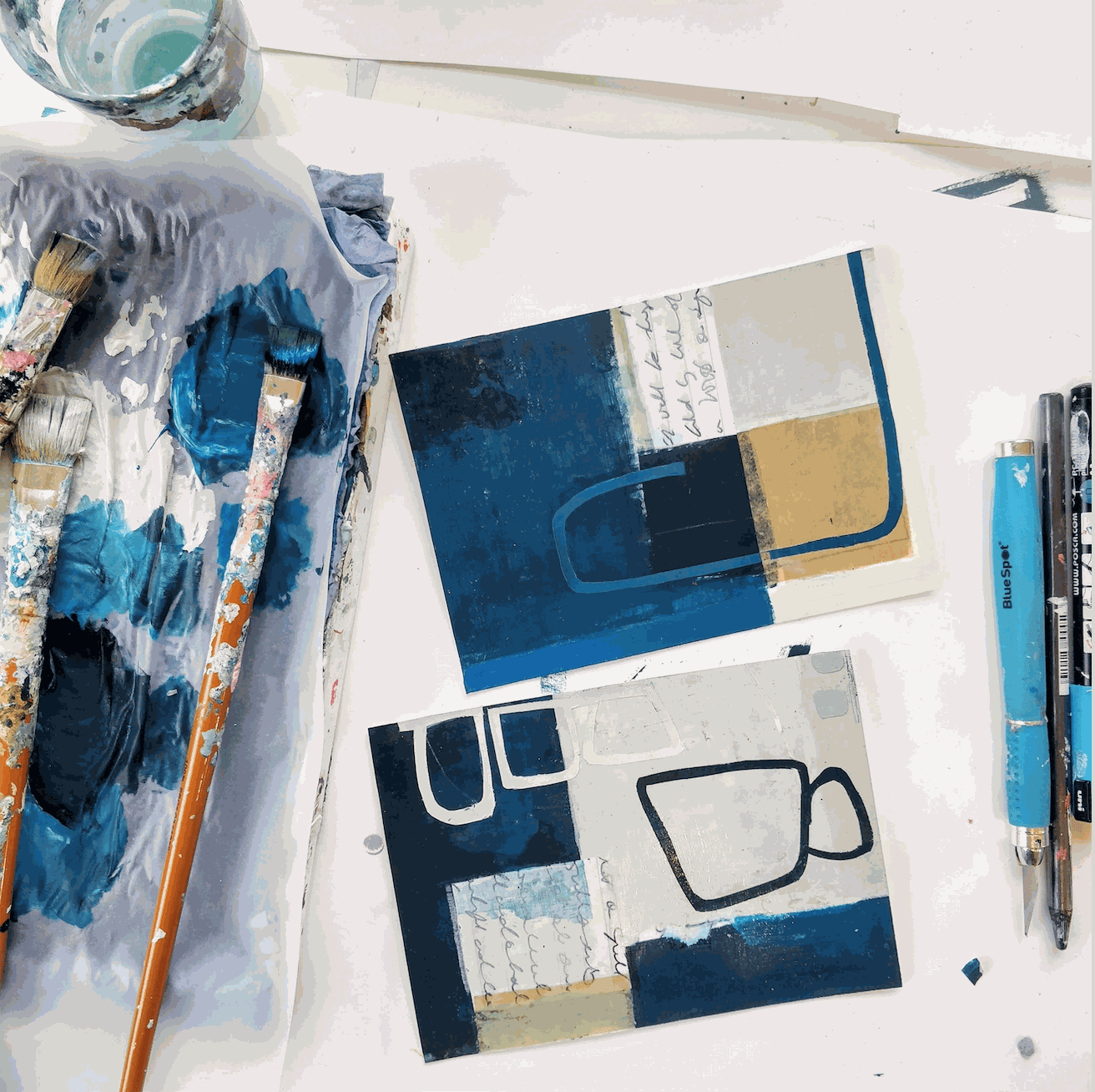 Art on a Postcard will mark International Women's Day 2021 with a celebration of the multiplicities contained in every woman. AOAP has invited female identifying artists to respond to an initiative called I AM created by The Hepatitis C Trust Prison Peer Educator Jane Shea.
Jane feels that the women the Trust works with are too often referred to as 'an addict' or 'a prisoner' and feels strongly that no one is one dimensional and furthermore it is the multiplicities in women that bind us together. A publication created to support the initiative was distributed among the women the Trust serve with a space to list the things they identify as being, without judgment or justification. One might be an addict, but they could also be a mathematician, a mother, a lawyer, a nurse and so on.

The collated responses have been used as an inspiration for the artwork created for the auction by such luminaries as Claudette Johnson known for her large scale paintings of black women; 'Punjabi, Liverpudlian' Dr. Chila Kumari Burman whose joyous work has been adorning the Tate Britain since Diwali; Japanese born, Brooklyn based artist Yui Kugimiya whose work is unique in its use of traditional painting techniques to create quirky stop-motion animations and Antonia Showering whose lockdown year included a White Cube show and representation by Timothy Taylor.

The auction runs from 25th February 2021 - 11th March 2021, with bidding starting at £50, online, with Drewatt's Auction House. You can register to bid here.